Well life with the BX has started again - I taxed it last night! It's going to be a hectic year for me, but there are few events during the year I intend on attending.
First thing I had to do was get the car onto the rolling road we installed last year at work. I've only ever put the Saxo VTR (honest) and Picasso on it, and being I took the BX to a local RR place who don't have a
great
rep last year and getting some silly unrealistic result (176.2bhp!) I was keen to pop it on a set that I
know
aren't fudged.....because I'm the operator!
Flywheel figures on rolling road dynos are only ever an estimate - the wheel figure is the only truely accurate one. I did two runs, one with the Superchip it (used to) have fitted, and one without.
Run with:
Run without:
The clue is in that dip in torque at around 3000rpm. The graph isn't cali'd to show it yet, but on the AFR readings the mixture leaned right out to dangerous levels (around 17.5-18.0 AFR) before richening back up too much until around 6500rpm, which was the only point the mixture was right. So whoever mapped that chip basically had know idea what they were doing! Results were broadly similar, but I'd been wondering for some time whether that chip was crap or not.....seems it was.
Results weren't clear cut to decipher though; 133hp at the wheels isn't too bad at all, and using the standard calculations (which you can do on a calculator) the result is 159bhp, which I'd be happy with as it shows the engine is in good health. However, the corrected figure of 144bhp isn't great, and this figure is normally more accurate is takes into account wheel slip, ambient temperature, atmospheric pressure.......it gets boring but you get the idea!
No excuses to hand at this moment. I think the front tyres only have around 20psi in them and the tracking is miles out, so there would have been a bit more drag then normal

I'm going to sort the tracking out, pump the tyres up and have another go. I'll film that one too.
Today's job was to sort out the driver's door moulding, which has come unstuck and tends to jam against the wing meaning you have to slide out of an opening about 50mm wide!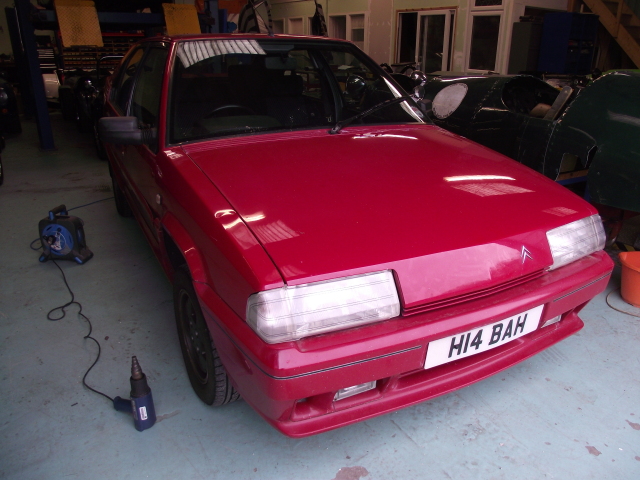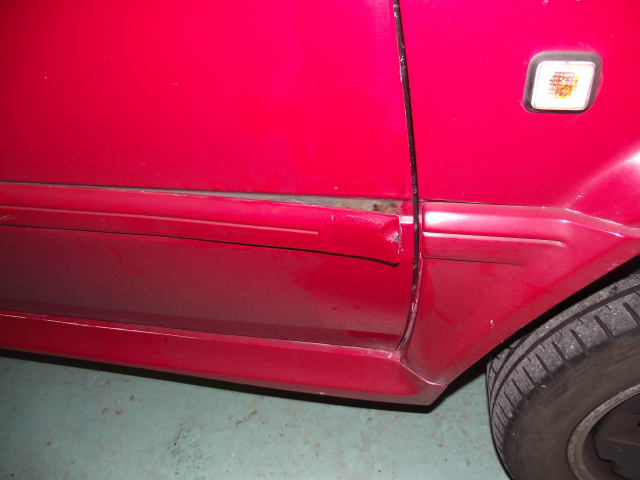 Turns out the door has a fair amount of surface rust and the mouldings on the 16v are held on with a blob of mastick at each end with trim tape along the middle. The rust was under both blobs of mastic, but only severe enough to have it come away at the front end.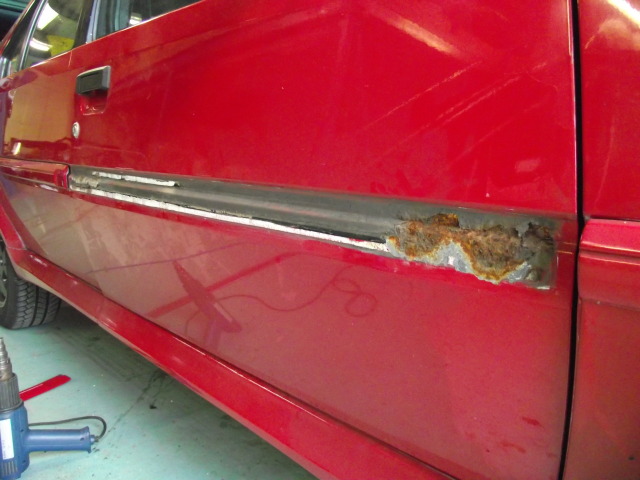 Lots of rubbing down ensued before caking it in Kurust and leaving it overnight in the workshop.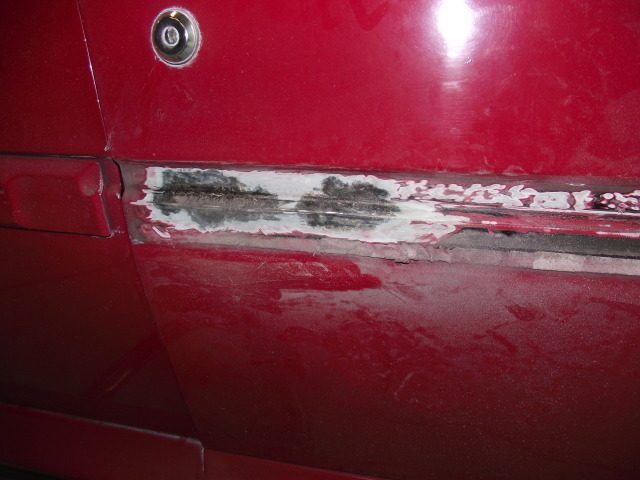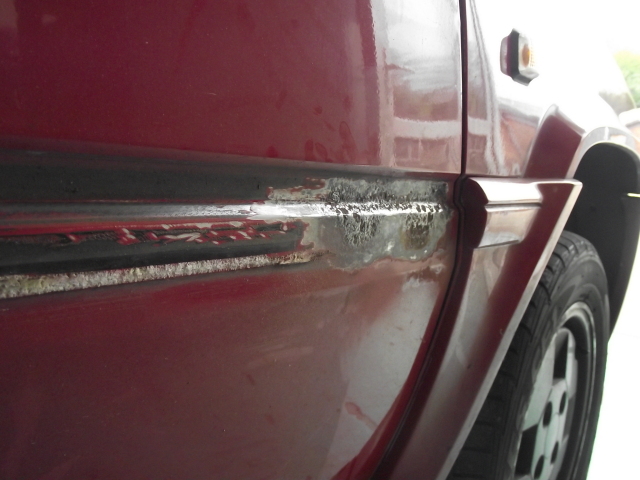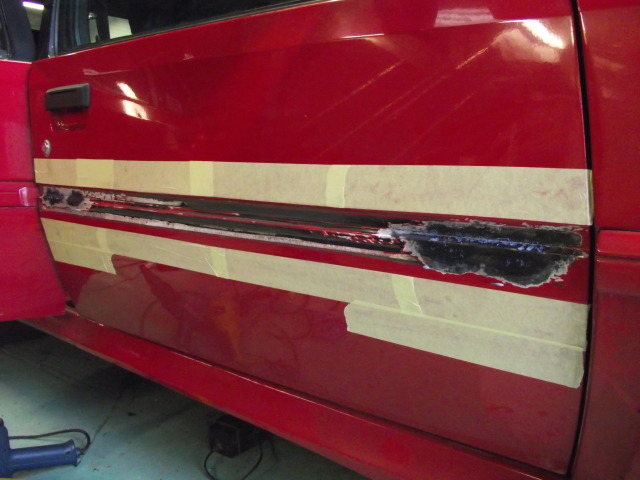 I'll fill it tomorrow, let that harden, rub it back, prime it, rub it back and paint it. I know it doesn't need to be perfect under there as it's hidden, but I see it as a good excuse to practice getting a nice finish with a rattle can! I might have a bash at the skirts and valances if it comes out ok. I'm not quite a full respray stage yet, but having to polish it to keep it red annoys the shit out of me as I don't like cleaning cars. Bores me to tears if I'm honest - I can probably stomach up enough enthusiasm to do a car once a year. Besides, I don't have time!
While I was doing the door (and seeing as every bloody product under the sun needs to be left ages before the next stages) I noticed the rear C-pillar isn't looking too clever, and have seen (someone who I can't remember's name, but it was on a Hurricane) do a quick fix with filler with good results I thought why not? It's not holed yet so it'll buy me some time. So I started that too: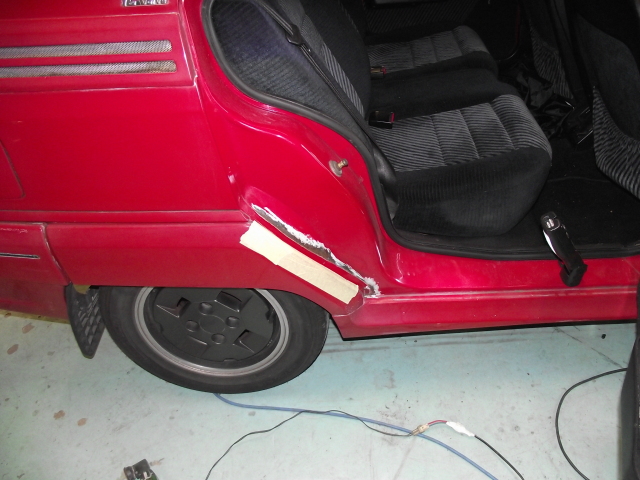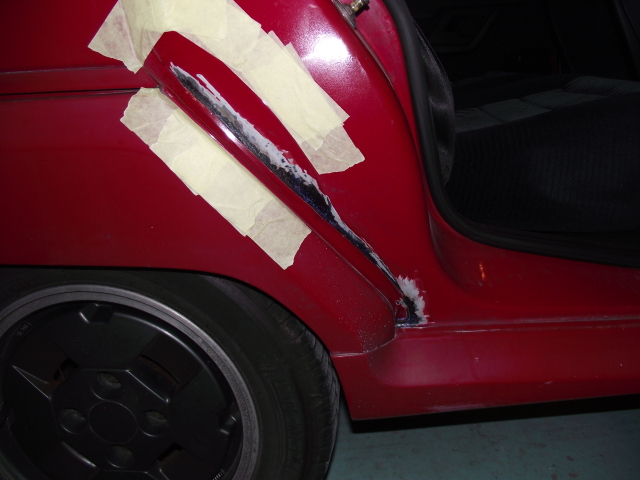 And that's as far as I've got today. Gotta get it ship-shape (within reason) - I'm getting married in a week and a half and need it ready for then!